Senior Member
Join Date: Nov 2009
Posts: 1,069
Mentioned: 0 Post(s)
Tagged: 0 Thread(s)
Quoted: 0 Post(s)
2014 NE - GTG at the Sun
---
Hey everybody
Lets get this thing going. Figured if we started early we could maybe have 2 this year, maybe another in September or early October as well. But lets get one going for sure in June. The date will be Sunday June 22nd, with a Rain date of Sunday June 29th. As a starting plan, we will go for Mohegan Sun again - Same place as last year, on top of the Indian summer Garage. I will check the shows and things coming up to see if there is anything else those weekends in the areas. But for now this is the deal. We had a Blast last time, and plan to do the same this time. We will be doing the same things with giveaways and all that cool stuff. Great Folks and Great rides what more can you ask for. So I'm post up some stuff here first then check the bottom of this post.
First a graphic of the Casino ......
Next a couple pics from the last one .....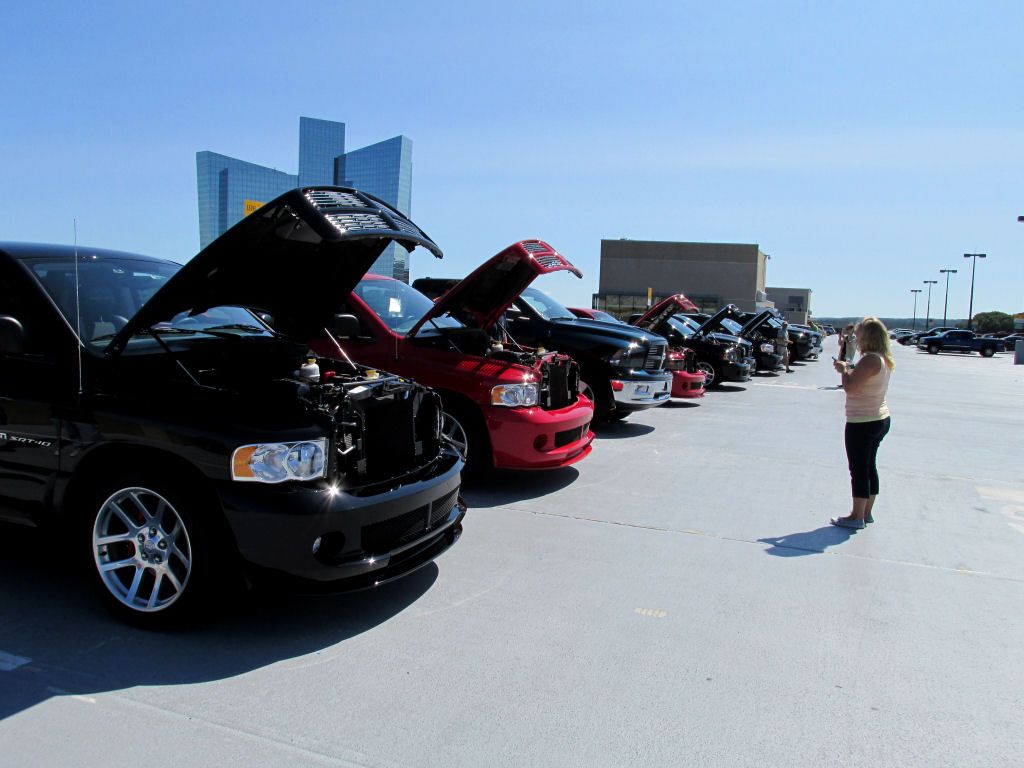 I think we had like 20+ Rides there, mostly SRT-10's But come one come all. There were some other Dodge Trucks and other rides as well. We hit the all you can eat Buffett for like 16 bucks I think it was. Everybody got a Give away in the drawing it was a blast. So lets do it again.
So with all this said ........ Let's get a list going folks and make it bigger and better than the last one. If there are any other ideas or recommendations speak up we are open to ideas.
Once we get a few folks I'll start a second thread for the list.
Jim
---
Senior Member
Join Date: Jun 2012
Location: Rhode Island
Posts: 475
Mentioned: 0 Post(s)
Tagged: 0 Thread(s)
Quoted: 1 Post(s)
I'm in here too....LOL
---
2008 VW .:R32, 3.2l, V6, AWD, #2952/5000
Senior Member
Join Date: Nov 2009
Posts: 1,069
Mentioned: 0 Post(s)
Tagged: 0 Thread(s)
Quoted: 0 Post(s)
I'll start a list thread after we get a few more. I have had a bunch of guys ask me when we were going to do it again........... Thanks Chris

Jim
---
Senior Member
Join Date: Nov 2009
Posts: 1,069
Mentioned: 0 Post(s)
Tagged: 0 Thread(s)
Quoted: 0 Post(s)
The List ..... Like ya said Hawk Great start guys ..... it's not even 24 hours yet.

JimTeTe
Hawk02
Stealth78
DRM1125r - Tentative
SRT2SLOW
Bwellmaker
Chewbacca

C'mon you guys we had a Blast last year just Photo-ops, Great food, Cool giveaways. Come one come all. I have this on 6 Forums there will be more.

Jim
---
Senior Member
Join Date: Nov 2009
Posts: 1,069
Mentioned: 0 Post(s)
Tagged: 0 Thread(s)
Quoted: 0 Post(s)
Another update already, couple more guys from other Forums ......

Not even 24 hours since it was posted and a great start going .......

JimTeTe
Hawk02
Stealth78
DRM1125r - Tentative
SRT2SLOW
Bwellmaker
Chewbacca
JimsRamTruck2012
Rocket

Jim
---
Senior Member
Join Date: Nov 2009
Posts: 1,069
Mentioned: 0 Post(s)
Tagged: 0 Thread(s)
Quoted: 0 Post(s)
Update for the GTG .........

The Start time is 11:00 a.m. But you guys get there when you get there. Most of us do the All you can eat Buffett at the Casino for 16 bucks, with a couple drinks of course. Then back to the roof for Photo ops and going to try to do a Free raffle again this year.

The list so far ..

JimTeTe
Hawk02
Stealth78
DRM1125r - Tentative
SRT2SLOW
Bwellmaker
Chewbacca
JimsRamTruck2012
Rocket
Smarsmar101
LB3711

Jim
---
Senior Member
Join Date: Nov 2009
Posts: 1,069
Mentioned: 0 Post(s)
Tagged: 0 Thread(s)
Quoted: 0 Post(s)
More updates - More Rides ..... The list so far ..

JimTeTe
Hawk02
Stealth78
DRM1125r - Tentative
SRT2SLOW
Bwellmaker
Chewbacca
JimsRamTruck2012
Rocket
Smarsmar101
LB3711
Engin89
MassRiper

Keep em C'mon ......

Jim
---
Senior Member
Join Date: Nov 2009
Posts: 1,069
Mentioned: 0 Post(s)
Tagged: 0 Thread(s)
Quoted: 0 Post(s)
Bump .....

More updates - More Rides ..... The list so far ..

JimTeTe
Hawk02
Stealth78
DRM1125r - Tentative
SRT2SLOW
Bwellmaker
Chewbacca
JimsRamTruck2012
Rocket
Smarsmar101
LB3711
Engin89
MassRiper
Rarichards

Keep em C'mon ......

Jim
---
Senior Member
Join Date: Nov 2009
Posts: 1,069
Mentioned: 0 Post(s)
Tagged: 0 Thread(s)
Quoted: 0 Post(s)
More updates - More Rides ..... The list so far ..

JimTeTe
Hawk02
Stealth78
DRM1125r - Tentative
SRT2SLOW
Bwellmaker
Chewbacca
JimsRamTruck2012
Rocket
Smarsmar101
LB3711
Engin89
MassRiper
Rarichards
EJM05 - Tentative
02steve1990 - Tentative

C'mon plenty of room left on the roof .....

Jim
---
Senior Member
Join Date: Nov 2009
Posts: 1,069
Mentioned: 0 Post(s)
Tagged: 0 Thread(s)
Quoted: 0 Post(s)
BUMP ..... The list so far ..

JimTeTe
Hawk02
Stealth78
DRM1125r
SRT2SLOW
Bwellmaker
Chewbacca
JimsRamTruck2012
Rocket
Smarsmar101
LB3711
Engin89
MassRiper
Rarichards
EJM05 - Tentative
02steve1990 - Tentative

C'mon plenty of room left on the roof .....

Jim
---
Currently Active Users Viewing This Thread: 1

(0 members and 1 guests)
Posting Rules

You may not post new threads

You may not post replies

You may not post attachments

You may not edit your posts

---

HTML code is Off

---